Solar for Residential
Solar Energy industry in India is gaining more and more speed with day by day. As we all know that due to India's geographical position has huge potential of solar energy and their benefits. As compared to other countries like USA, Austrailia, Germany etc. India has more solar insolation on its surface. Generally India enjoys its 300-320 sunny days and that can be used to generate Eco-friendly and green energy by adopting solar as an alternative renewable energy or solar for residential homes.
5 Reasons to choose "ROSOL-India Ka Solar"
1.Output Performance & Warranty of Solar Panels
Generally you will find those companies who offers 10 years product warranty  and 25 years performance warranty on Solar Panels. 90% output warranty for 10 years and the 80% output warranty for next 15 years. But Rosol Energy Pvt Ltd provides you 12 years of product warranty & 30 years performance warranty on Solar Panels. Our Solar panels performs better than others as we give 91.2% Power Output for 12 years and 80.6 power output for next 20 years.
2. Inverter & System Warranty
Most of the vendors or companies provides 5 years warranty on inverter and 1 to 5 years warranty on complete solar power plant or system. We provide 10 years warranty on inverter and 12 years warranty on complete solar power plant system. So there is more possibility in power generation without any hassle.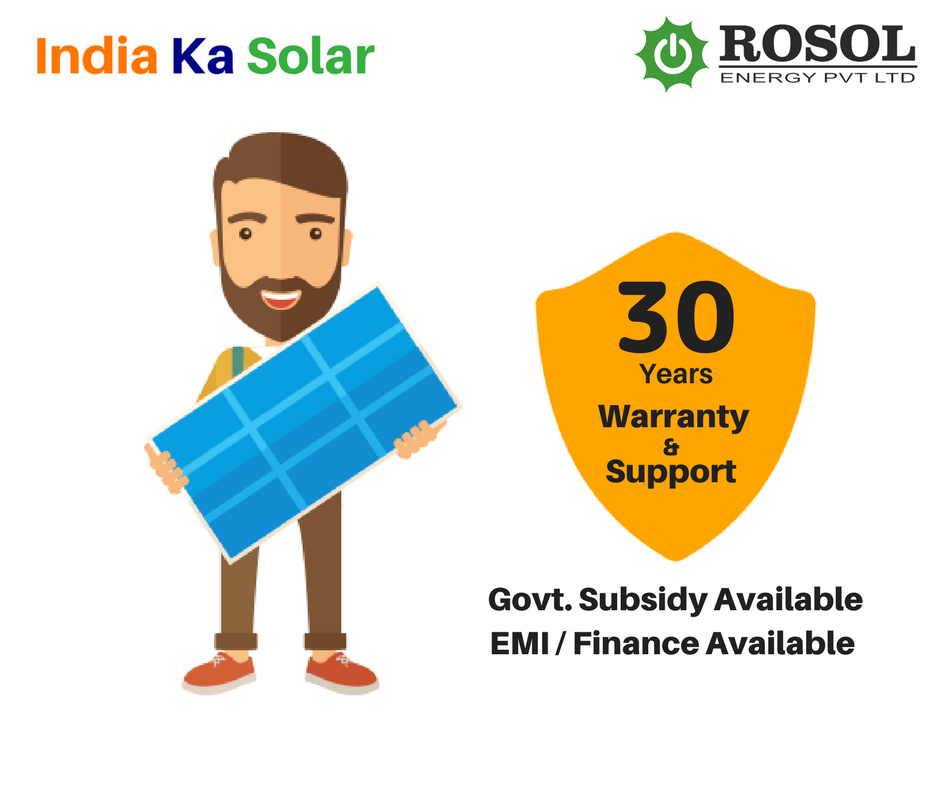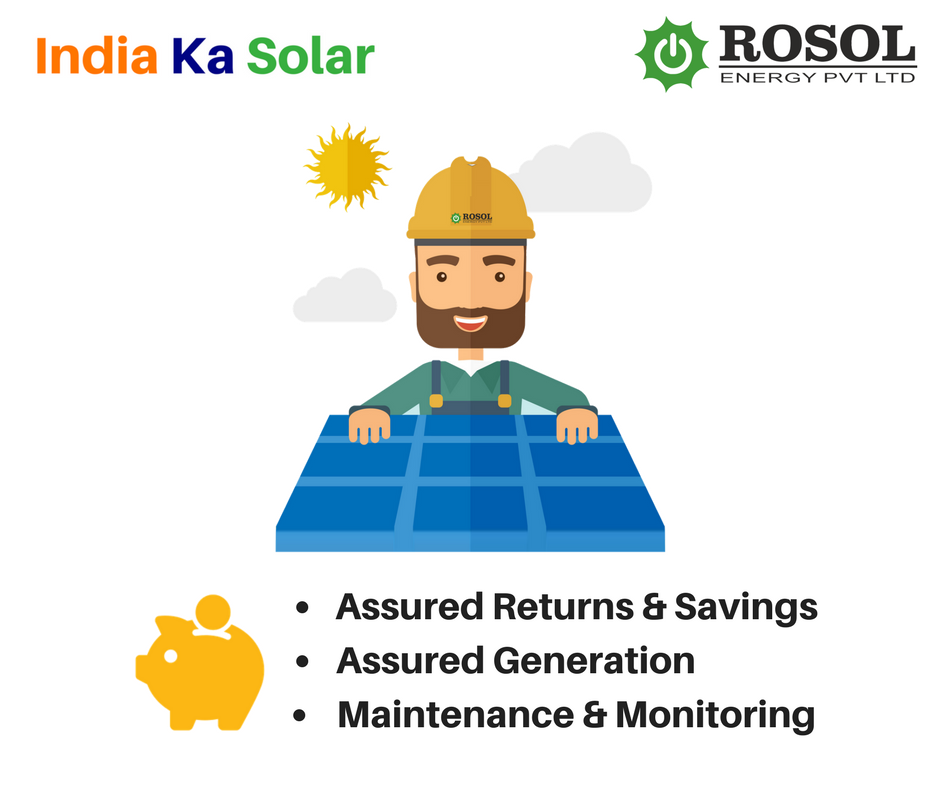 3. Power Generation Assurity 
We give assurity or expectation to our clients that how much electricity you would be generating through our installed solar power plant or system. We also assures you that our installed system will generate more power as compared to basic installed system. . 
4. Quality, Reliability & Services
We select best quality components or equipment's to ensure the quality installation of solar power plant or system that will last for next 30 years, we also make sure that our client wouldn't have to face any problem in future. From Solar Panels, Inverters, Mounting Structures, Cables, Protections devices and other components of balance system, we perform quality test and check their grade, standards and parameters as per MNRE/SECI/BIS etc. to be sure before the installation. 
As we have established very large network of certified and skilled installers, engineers and service executives to attend your complaints or service request as quick as possible.
5. Loan/ Finance with Easy EMI
 We also provide easy EMI finance facility to get your solar power installed on your roof without any hassle from our financial partners like Banks, Financial Institutions, or Agencies. We can understand that fact of high upfront cost of solar power stops you to go green, so we have sort out this problem by having easy and hassle free finance facility. So it would be good to pay as you go without any financial hindrances.